SCIENCE HIGHLIGHT
Geodynamics Branch, Code 921
July 2004
Sauber Research on Glacier-Earthquake Link Highlighted
NASA Press Conference Describes How Glacial Retreat May Advance Earthquake Timing
Alaska suffers large and devastating earthquakes, due to its location along a major tectonic subduction zone. It is also known for its mountain glaciers which experience advances and retreats in response to climate change. Advances increase the surface loading and retreats decrease that loading, causing changes to the stress levels on faults which can rupture in an earthquake. A joint research effort by NASA and USGS scientists over the last several years has demonstrated an apparent link between deglaciation (loss of ice mass) and a possible increase in the frequency of earthquakes. This research was the subject of a NASA press release on July 26, 2004.

Earthquakes, especially those at the subduction zones where one tectonic plate slides beneath another, have been a central focus of Jeanne Saubers research since graduate school at MIT. As a civil servant in the Geodynamics Branch of Goddard Space Flight Center she did field studies in Alaska using GPS to measure crustal motions as a constraint on models of how earthquakes occur. More recently she has teamed with Bruce Molnia, a glaciologist from the USGS, to study how changes in the mass of glacial ice can affect the earthquake process. Their work, described in several recent papers, has demonstrated a link between unloading of the crust due to glacial retreat and the frequency of earthquakes: it appears that loss of ice during glacial thinning may advance the likely onset time of recurrent large earthquakes. Unloading the crust by removing the overburden pressure makes it easier for the faults to move, so the plate tectonic driving of the plates can proceed more easily, likely leading to more frequent ruptures. On a larger scale similar increases in the occurrence of earthquakes appears to have accompanied the end of major ice ages.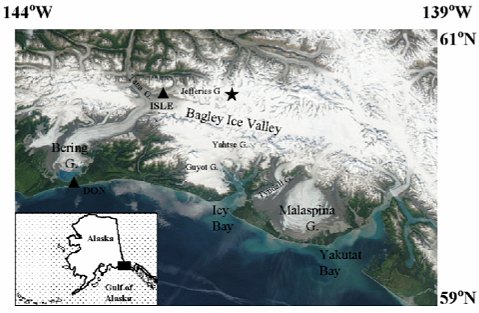 Map showing location of the Bagley glacier (left) and the Malaspina glacier (right) in southeaster Alaska. Significant changes in ice mass loading have occurred in this area. Loss of ice reduces the loading on the crust, making it easier for the tectonic plates to move as they do suddenly in an earthquake.
This important result was highlighted in a July 26, 2004 NASA press release, and has been the subject of news stories and almost daily interviews since. Details can be found at the Goddard Top Story web site at http//www.gsfc.nasa.gov/topstory/2004/0715glacierquakes . The Fairbanks, Alaska newspaper carried the story on the front page, and a National Public radio interview was broadcast on August 5, 2004.
---
Contacts: Jeanne Sauber, GSFC, Code 921, jeanne@steller.gsfc.nasa.gov

Back to Geodynamics Science Highlights
Responsible NASA official: Dr. Herbert Frey

This page maintained by Jim Roark (SSAI)
Last modified on August 12, 2004